Here's the army so far all in one post. If you've been following this from the beginning you'll have seen most of this already, but there will be a few new things. For many of these, check out earlier posts for more pics.
Why am I putting all these up in one place? One, I think it's nice to see everything at once. Two, I need your help, and seeing them all will make it easier for you to do so. Please see the end for how you can help...
Psyker battle squad, bunch of Chaos sorcerers. First five.
Second five. The one with the torch and book will be the Overseer.
For times when I want to run a Primaris Psyker, if I'm not running a PBS or just a smaller PBS, I may just use one of them as a Primaris. Otherwise I'll break this guy out, a Heartbreaker Miniatures wizard.
He's not necessarily the most impressive guy, but I like him. I saw this fig like a decade ago and always wanted one, but didn't know who made it or what it was called. Over time I figured out that he was probably a Heartbreaker fig but couldn't find a pic anywhere, but recently found him on ebay. Woot! The long search has given him extra sentimental value to me.
Cultist platoon command squad. Officer is a Dark Age Nathaniel fig. I was originally going to use a PF, but decided to leave the sword, especially as it comes in a nice swinging pose. Two flamers and two CCW cultists back him up.
Cultist platoon infantry squads. Meltagun, sgt with PW.
Oops, now I remember I still need to add a lasgun to one of those Eschers. Easy fix.
Cultist missile launcher teams.
Techno-barbarian heavy-bolter tough guys
.
Vets, 3 meltas and powerfist.
Mortars.
Lascannons.
Spawn Riders (Sentinels).
Rough Riders. See prior posts for more detailed pics.
Group A
Techno-barbarian platoon CO. Powerfist, two flamers, two CCW.
Techno-barbarian platoon infantry squads. Grenade launcher, power weapon sgt.

Squad 1, first half. Sgt is guy with spiky mace.
Second half.

Squad 2, first half. Sgt is guy with skull helmet.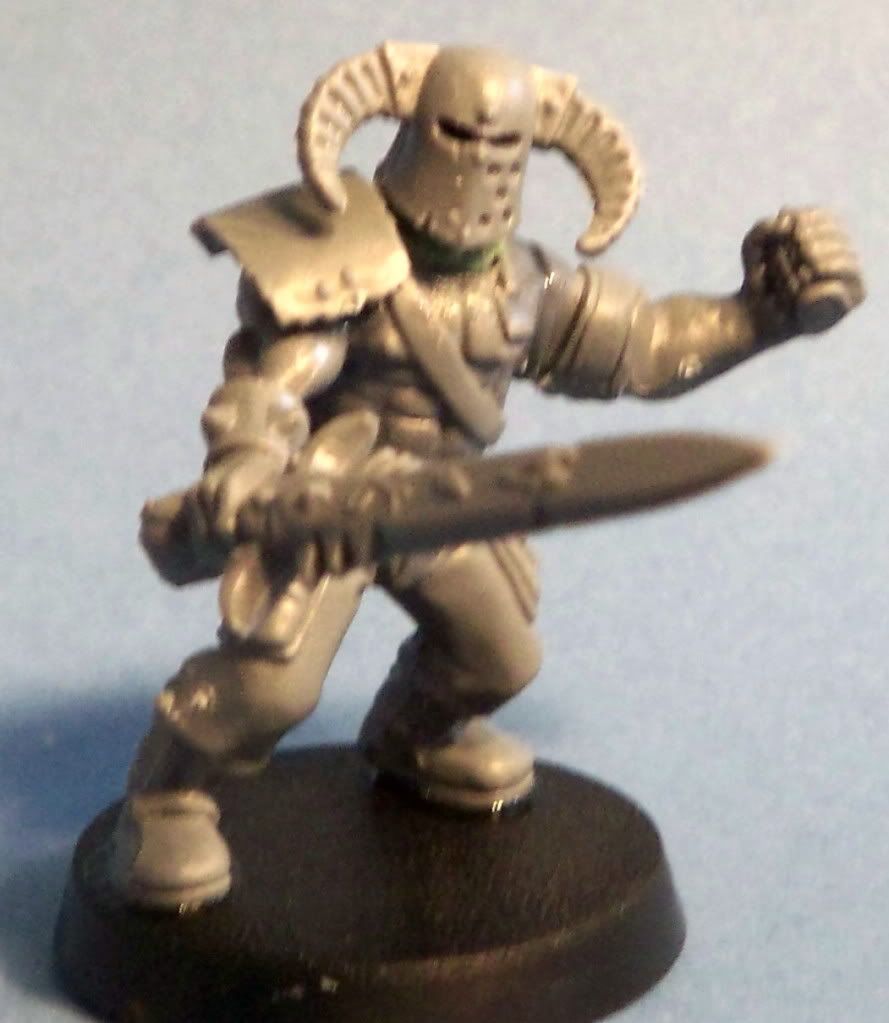 The Man with the Plan; Khonan. Counts-as Marbo.
Group 1
Group 2
Group 3
And the squad leader.
Now, the building phase isn't quite complete yet, but all the infantry and such are done for what I planned on for the initial lists, unless I've forgotten something! I still have to do the vehicles - a Hydra-equivalent, five Chimera equivalents, and a Russ-equivalent. Then stuff will start getting painted!
I have plans for further expansions down the road, but will get this massive first batch painted first. Some stormtroopers, more tanks and artillery pieces, maybe a valkyrie, corrupted PDF platoon, commissars, some Repentia as priests, maybe some other things as I think of them.
But now
as I finish the building stage and gear up for painting, we come to the second part of this monster post, and part of the reason I went ahead and included so many pics above. In short...
I do reserve the right to refuse particular names - I don't want to paint "Buttmunch" or something on my bases. I don't think this will be an issue, but want to set some basic boundaries just in case. If you get your pick in before I get the fig painted, I'll also try to accommodate things like skin tone and hair color if you specify and want them to look more like you.