Thursday I got in a game with Jason, whom I've never played before. He came over with his Death Guard army, and being a sucker for the Long War I broke out the Imperial Guard to try to stop the outbreak. Two green, gasmasked armies face off! We decided on 2000pts for the battle, and after he arrived we rolled up Seize Ground (4 objectives), Spearhead deployment. Jason won the roll off and chose to deploy and take first turn.
Jason took (IIRC):
Typhus plus 5 termies, 3xcombimelta/pw, 1xheavy flamer/pw, 1xcombibolter/chainfist (teleporting in) One had an Icon of Nurgle I'm sure, I think the heavy flamer guy.
Winged Nurgle DP, Warptime
2xplague marine squads, 2xmelta, pf, possessed rhinos
1xplague marine squad, 2xflamer, possessed rhino
Possessed Land Raider (flamer squad actually rode here)
Defiler
3xOblits
He deployed the armored force in his corner, ready to roll out.
I deployed the Merkans in the opposite corner, cursing the die roll that let Jason make the good decision to stick me in a corner with little opportunity to stack my firepower and see over some obstacles. The Russes and heavy weapons squads took refuge behind more expendable meatwalls that in turn found what cover they could. One Platoon was tasked with moving towards each of two objectives.
I took:
HQ
Commissar Yarrick
185
HW sqd: 3xHB
75
First time using Yarrick this edition, and it will show. My army isn't really set up to use him to the best of his ability, but even so I made some silly errors with him. He's with the Veteran squad in Reserve.
Overview at start of Turn One:
The Imperial Guard return fire...weakly. Between BS3, cover saves, and poor penetration/damage rolls, I manage to shake a vehicle or two, which promptly ignore even that through possession.
Mortrarion's Legion moves up again, and the Land Raider immobilizes the Hellhound with a blast of its port Godhammers. Daemon Prince lands in position to close in with the Imperial right flank.
Or, to take a drink of the refreshing toxins spilling from the damaged storage tanks. Who knows?
Imperial turn two my Reserves arrive, vets plus Yarrick. Too early to jump on a disembarked plague marine squad, no real point in adding them to the clutter in my own deployment zone, so why not try something else? Yarrick's got a Str 8 powerklaw, right? Let's see if we get lucky against that Land Raider and distract the forces of Nurgle from my main body.
Hmm, it appears that Yarrick is actually only base Str 3, so Str 6 fist. Oops! They bust open a few of the exterior pustules on the hull but fail to damage the tank itself in the least.
Typhus and his buddies teleport in near the Imperial front line and the Imperial board edge. They scatter into difficult terrain but emerge unscathed from Dangerous Terrain checks.
Two winged figures, one a symbol of hope, the other of despair. Some may disagree about which is which.
I manage to start immobilizing more of the Rhinos, but not before they start unloading plague marines into guardsmen. At least they won't be tank shocking several squads at a time!
Guard on Guard combat, but not as fair as it might sound at first when you realize that only one starts with "Imperial", while the other starts with "Death". To compound the problem, the IG sergeant takes a shortcut through the goo with his defenders react move, slips and quickly dissolves.
The Plague Marines win the assault, and the three surviving imperials high tail it towards the rear to "reestablish communication with the artillery".
IG retaliation removes most of the squad, leaving the champion alive.
Elsewhere Yarrick and the vets dance at range with the Defiler, which kills most of them but Yarrick and one survivor scamper towards objectives.
Land raider finishes off the Hellhound, which had helped kill the bulk of the plague marine squad. Got to use one of my snazzy new wreck markers, but unfortunately the first use was on one of my own tanks! Between the cans on the left you can spot the Daemon Prince getting ready to attack a Russ.
The champion charges a platoon command squad but is cut down before he can swing his filth-encrusted power fist.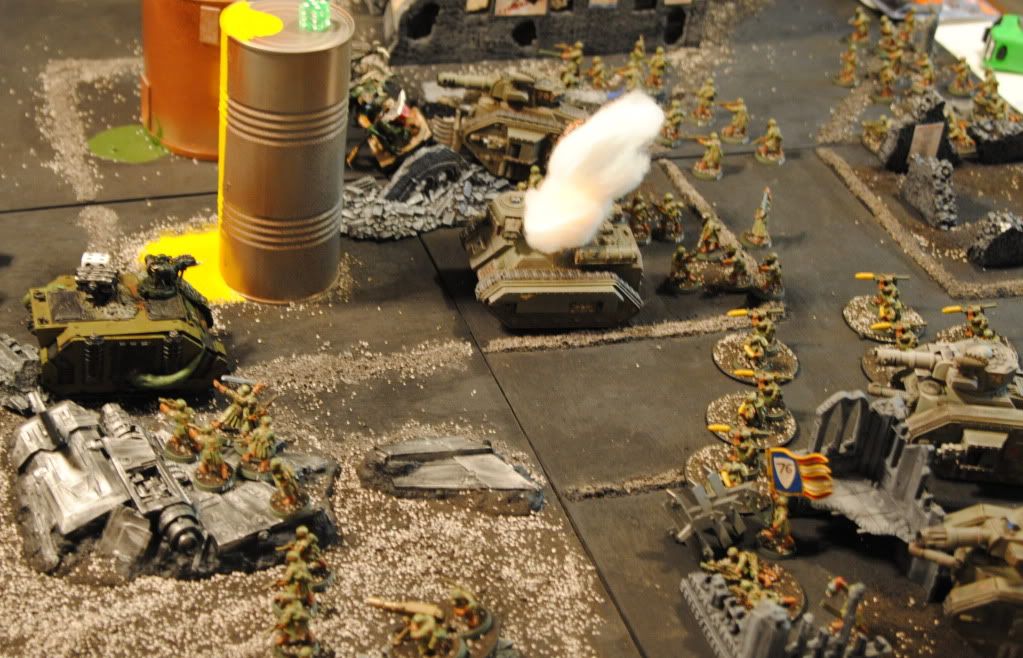 Shot of Imperial side of table, turn five
Typhus and his unit carve through guardsmen on the imperial left.
While the Daemon Prince flies over from immobilizing a Russ to feast upon some missile launcher teams, easily killing them...
...but leaving him open to massive retaliation, returning him to the Warp with only a foul-smelling cloud of vapor to mark his passing. Behind the cloud the depleted company command squad can be seen, having suffered some casualties from the Defiler's battle cannon earlier.
Battlefield overview - crater from exploded Rhino, IG squads making for objectives


Plague Marines lumber away from the IG in their immediate vicinity, seeking to cover an objective. We decided that the blessed of Nurgle wouldn't care too much about toxic waste and waived dangerous terrain checks for the goo.
Typhus collects the imperial commander's head to use as a future blight grenade.
Flamer squad disembarks from the land raider to eliminate some guardsmen who might contest their objective while the raider itself pivots to pour fire into Yarrick and his scoring buddy.
On the Imperial turn, Yarrick rolls for his 3+ stand back up power, but alas a 1 and final death are his fate. He'll be back...just not this game!
The Obliterators (right side, atop building) have been pouring plasma cannons into IG infantry, taking a toll despite the frequent overheats. Plague Marines round the corner to try to contest another objective.
The imperials move on the same objective, and unleash fire on the traitor astartes.
Merkans pour fire into the terminators, gradually killing most of Typhus' retinue but proving unable to kill the host of the Destroyer Hive.
This picture brought to you by AV11
While it is of no real tactical significance, I rejoice in the ability to place a snazzy wrecked marker on an enemy tank too.
In the end the Plague Marines by the goo silos weren't close enough to contest, and I was unable to kill all of the marines by the land raider and the objective in the crashed lander, leaving us at the end of turn seven with a 1-1 tie.
I had a good time, and would definitely enjoy playing Jason again, schedules and whatnot permitting. I always enjoy Chaos/loyalist matchups, and a seven-turn slugfest resulting in a tie is a good game in my book.