While looking at what to add to my Merkan Imperial Guard list for the league's bump to 1250, plus any changes I wanted to make, I knew I wanted some back-field capability. The initial obvious answer is the IG's very own boogeyman, Marbo. After working on the list, including Marbo, I had 90pts left over, and while I initially was going to just toss in another missile launcher squad, I thought about more guys to hang out with Marbo, and noticed that five stormtroopers with a flamer fit in at just the right budget.
But I didn't really have good models for those that fit in with the Merkans.
Yet.
I started with Marbo. I wanted him to fit in with the rest of the army, but be distinct enough that he wouldn't be confused with a regular guardsman. So, a Steel Legion figure was called for, with a different paint job. I decided he would be part of some intelligence unit, using standard gear just working behind the lines a lot more. The Merkans are based roughly on WWII Americans, so this Marbo might be working for some equivalent of the OSS. Here's where that picture at the start of the article comes in - Moe Berg, Princeton grad, professional baseball player, also worked for the OSS during the war, doing things like parachuting into Yugoslavia to assess the resistance leaders, and investigating the Axis atomic bomb research (and decided not to assassinate Heisenberg, judging him and the Nazi program not to be a threat). Sounds good, and a baseball player should have a good arm for chucking those demo charges! Bonus that "Moe Berg" and "Mar Bo" aren't that far off.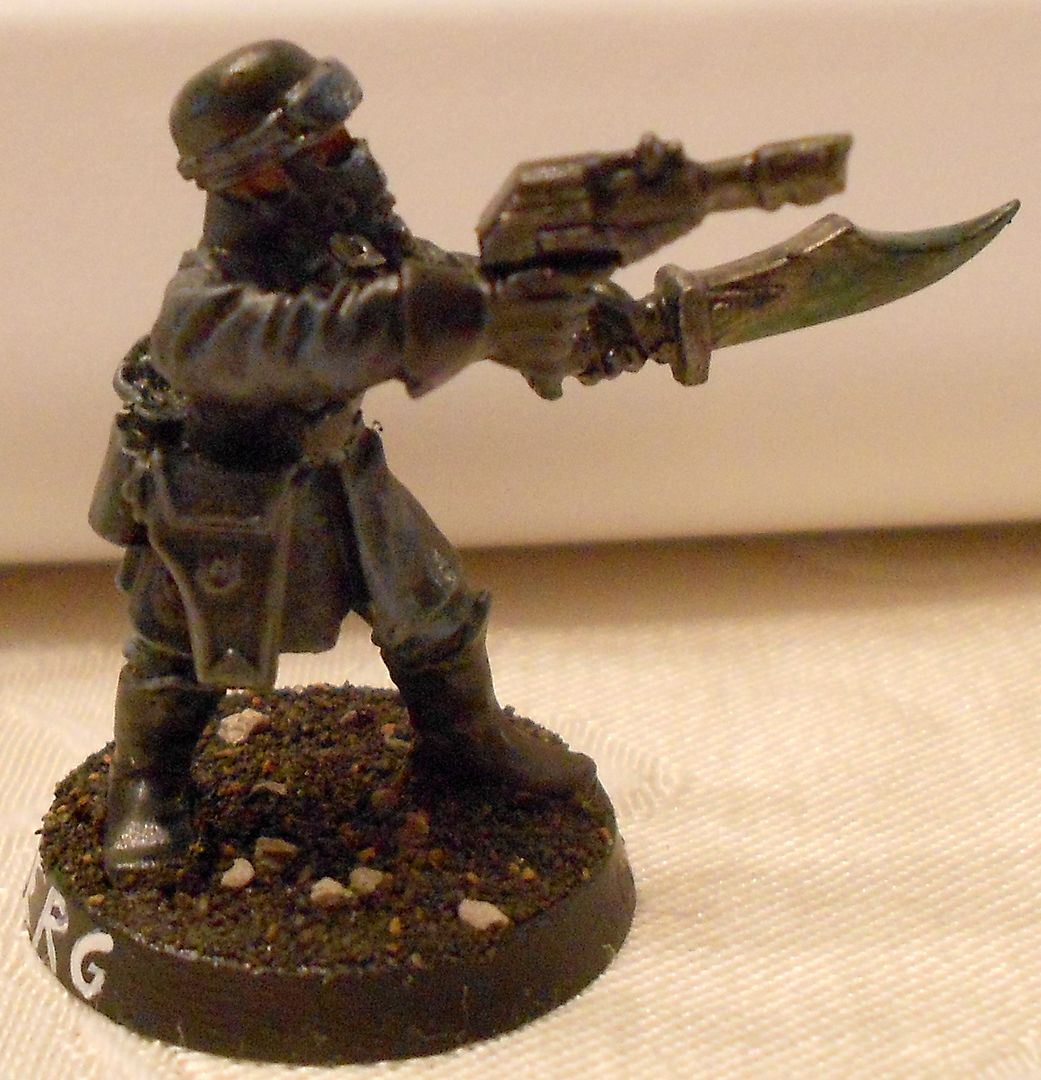 I took a regular Steel Legion sergeant and swapped out his chainsword for a wicked looking blade, that I think came from some earlier WHFB Chaos or Orc kit, but I'm not sure. It was given some icky green poison, and Moe's outfit was done up in black and grey. I thought about doing something like adding a scope to the pistol, but decided that he was just that good with it, one of those scary shots that can always hit where they want to. So his Sniper rules are just due to him being that expert with a plain old laspistol. To me, that's scarier than having a fancy gun. As with my other Marbo conversion (Khonan, for the Scythiak) I decided not to model on a demo charge, since by the time he hits the table he's throwing it already!
Next up were the stormtroopers. Since they had a different save, i didn't want to use regular Steel Legion figures, but wanted to still make them look like they belong. Some Wargames Factory Shock Troops I got in a trade a while back (thanks Aaron!), Pig Iron heads and various GW bits and we were ready to go. Yay bits box! I painted them pretty typically Merkan, but the armor plates, different masks, and longer flak coats mark them as special.
Hopefully they'll feature in reports in the next round of league games, tearing up some enemy rear-echelon units!