Lookin' for some traitors
Or whatever comes our way
Yeah Sharks are gonna make it happen
Take your worlds in our embrace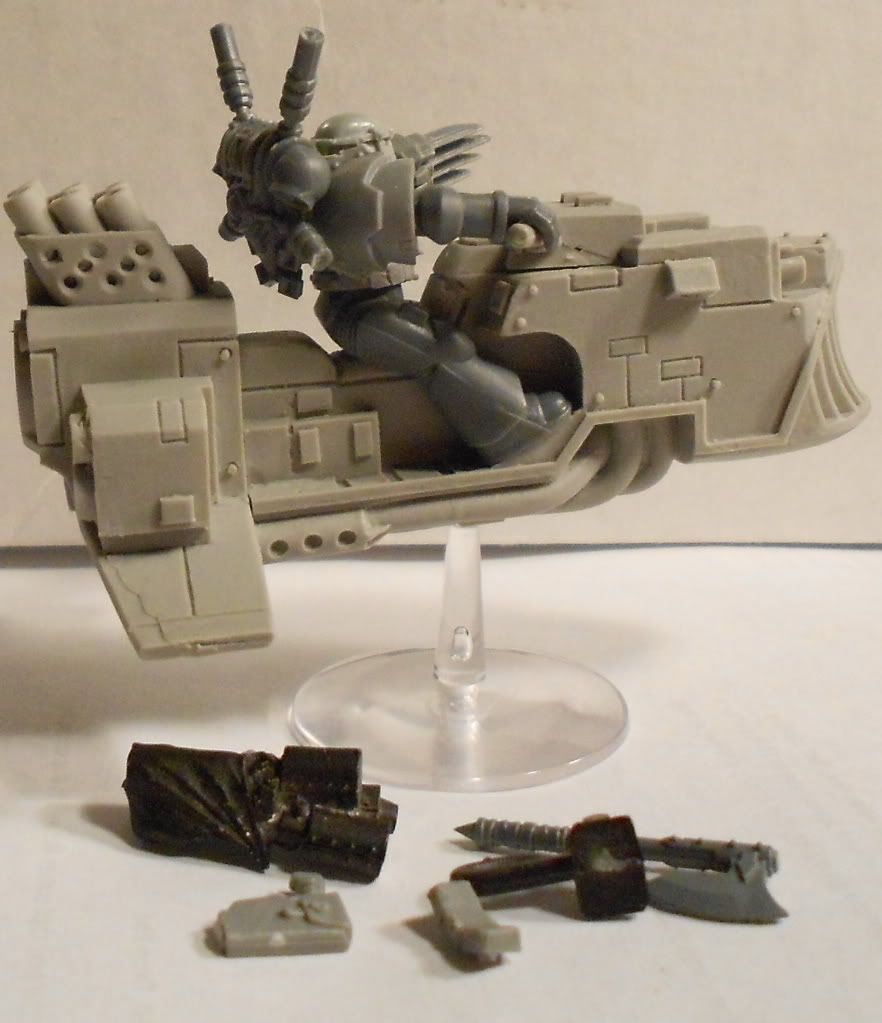 Fire all of our guns at once and
Finish off some race
Claws of smoking lightning
Heavy bolter thunder!
Coming from the void
Gonna drag you under
Yeah Sharks are gonna make it happen
Take your worlds in our embrace
Fire all of our guns at once and
Finish off some race
Like a true chapter's child
We were born
Born to be wild
Coming from on high
They're all gonna die...
Born to be wild...
Born to be wild...
**************************
Ahem. OK, now that that's out of my system, let's talk about these pics. Here's the current WIP for Captain Mako on his Kromlech jetbike. Standard marine biker legs, MkII torso and head, biker arm, lightning claw (not sure where it came from, SW maybe?), company champion pads, Grey Knight backpack.
Some extra bits to be added on - a spare CCW, some grenades/meltabombs, pistol, etc. Working out a good way to incorporate a combi-weapon - originally thought would incorporate into the bike itself, but thinking more that will just have a hand flamer or something on the side for him to use as a one-shot weapon.
I tried out a number of different heads, but ended up with the MkII one. I think that the vented faceplate ties into the bike's design well and has a good predatory look.
Next we have a sergeant for the assault squad, with his wrist-mounted bolt pistol and power fist borrowed from the Death Company. Base figure is an old metal Space Wolf Blood Claw, which aside from being a beakie is festooned with grenades and other stuff.
Back view, showing his bladefins. Need to find more of those; my supply of leftover 3rd ed DE bits is running very low!
Here you can also see the back of the fist. Scraped off the wings that used to be attached to the skull and used a little plastic glue to melt&smooth the scrapes out.
Hope you like 'em, hope to keep the progress going!