Kept on taking a break from major project work in order to knock out some miscellaneous figures that have been sitting around for a while. Mind you, the mountain of unpainted stuff is hardly dented, but it's something.
First, a Reaper Efreet (03322: Efreeti Emir).
I wasn't in the mood for anything fancy, and I enjoy painting elemental types, so decided to just do him as though he and everything he had was all made of fire. Red base, then sloppy "dry" brushing over with orange, then mid range yellow and then a lighter yellow, with a second pass over the armor, face and hair to help it pop more. Base hit with some black to contrast and maybe give the impression of cinders or something.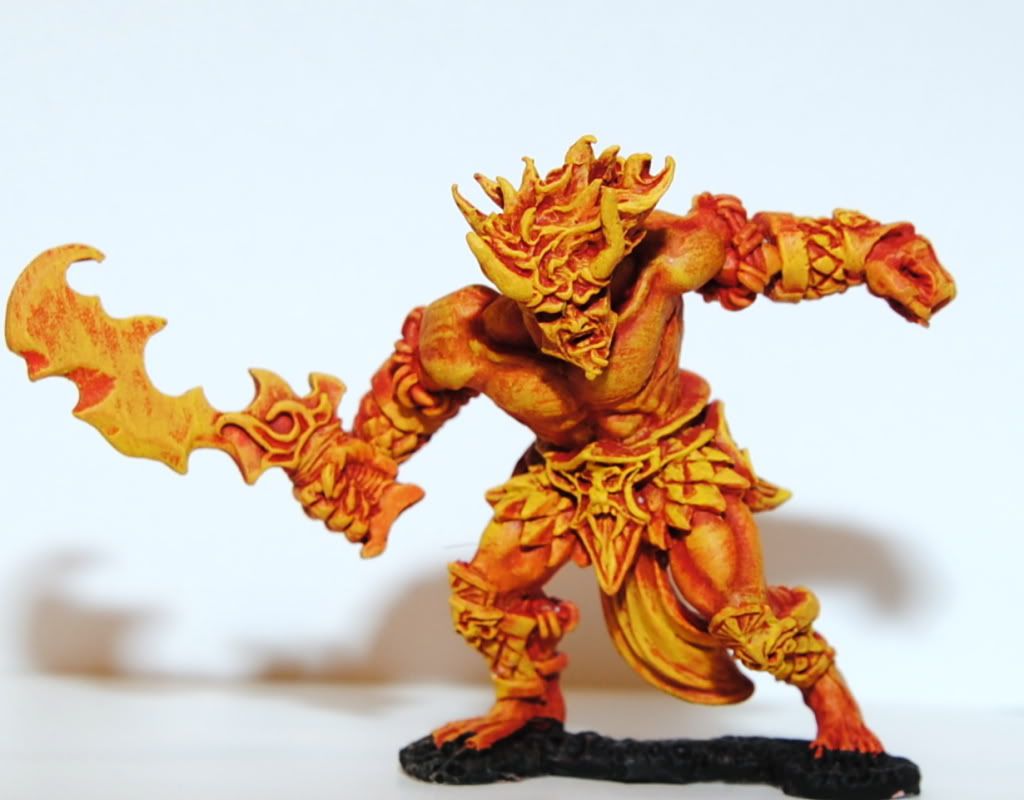 Also knocked out some Gnolls that I had gotten as a lot on ebay a while back. I think that most are Chainmail figures, with one guy in the back being some kind of Chronopia wolf-guy, but close enough to a Gnoll for me. Very sloppy job, but I think it works out OK for them. Brown base, goldenrod yellow sloppy brushed on the skin/fur, a little metal brushed over the armor parts, eyes/tongue/teeth done and finished. The defined muscles and features and all the fur lent itself very well to drybrushing type work, and they went very fast. The brown/metals give a bit of a rusted/neglected look that I think fits most D&D humanoids. If I wanted to really polish them off a wash or two or some kind of brushing over the mono-layer brown parts, and maybe add some hyena-like spots, but for occasional RPG use I think they're fine as they are. Definitely better than just black primer!

Gnolls are probably one of my favorite D&D humanoids. A bit different from the standard Orcs, Goblins, and Ogres. Might not feel right for giant armies, but great for raiding parties and more unusual stuff. Tougher than the average humanoid, cool hyena theme and they even rate their own demon prince, Yeenoghu, who also is linked to Ghouls, one of the cooler undead. Combined it gives you a good complete package - Gnoll fodder (but tough fodder) led by EHPs (Evil High Priest(ess)) of Yeenoghu with a bunch of Ghouls as backup, with demons on standby for when the PCs get to higher levels. You could run through a whole campaign just working your way up the Gnoll ladder.