The weather has gotten colder again so I didn't get to seal them yet, but here's some pics of the Scythiak techno-barbarian contingent (and some friends) that are pretty much done.
Also only a little over one day left for the
Tau army auction
! Check it out if you're looking for a completed Tau army that's different from most everyday Tau forces.
Kantor Fett (center) flanked by two squaddies
The sealer will knock the shine off things like the spawn, but there are a couple of other last minute changes I might make.
One, while I normally don't like putting too much stuff on bases, I may add a little bit to the larger ones like the spawn riders and the heavy bolter guys.
Two, having them around for so long makes me second-guess things, and I may try to add some (drybrushed) highlights to the skin. I darkened the figs up on purpose, but sometimes when I look at them I think it may have gone a tad too far. Other times I don't, and given that I did a number of shades of flesh, getting good highlight colors for everyone might be annoying, so I may end up passing on that step after all.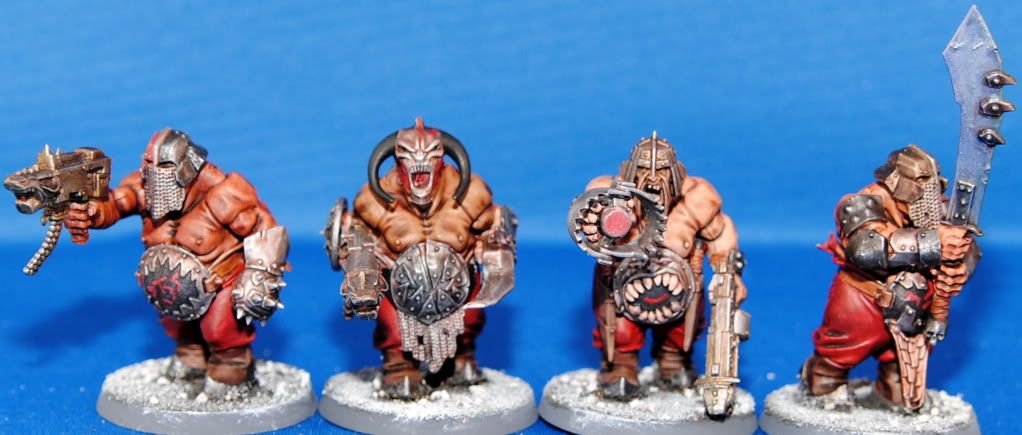 Killgore! (center) and friends

Warchief Papa JJ only has one eye, but that's enough to see where his power fist is going

Notbrent (left) and Khorne Dog (with power maul) are stalwarts of this squad



Lascannons to open the tanks...
...and mortars for the passengers.
Kill, Maim, and Burn - some bad mamajammas
Khonan, even more of a bad mamajamma



Some other recruits, the Beldasian Forge-fethers
As a reminder, especially to newer Discriminating Readers, many of the Scythiak are open for naming. If there's a figure that speaks to you that you'd like to name, let me know and you could become part of the Usurpation!